Welcome to the home of the McLean Consulting Group
Build your community, agency, municipality or business by accessing our expertise and experience. Our team includes former community development officers from the federal and provincial government, presidents of boards of directors of agencies and corporations, executive directors of community agencies, teachers from colleges and universities, counselors and facilitators as well as knowledge keepers for Indigenous communities.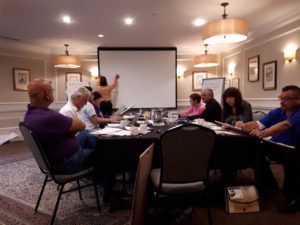 Some of Our Recent Projects Include:
Wahta Mohawks - "Self Esteem for Teens" and Healthy Relationships
Niagara Catholic District School Board - Stress Management for Adult Learners
Trent University - Healing the Wound of Racism, Understanding Your Learning Style
Mississaugas of the New Credit First Nation - Consider this…Indigenous Respect teachings
The Ontario Association of Adult and Continuing Education School Board Administrators - Temperament Type and the Adult Learner
Niwasa Aboriginal Head Start - Community Board of Director Training
Beausoleil First Nation - Self Regard and Assertiveness for Women-Healthy Choices for Teens
Three Fires Alternative Justice - 3 days of training for volunteer sentencing circle participants, Website Development
Brock University Teachers College - Cultural Competency training
Association for Municipal Employment Services - Tools for Dealing with Angry Clients
First Nation Technical Institute – Office 365 Migration and Office Workflow Staff Training
The City Of Toronto - Indigenous Patron Screen Community Engagement
South Coast Community Hub - Community Hub Feasibility Study
Indigenous Centre of Excellence for Early Years and Child Care -Office 365 Migration and Staff Training
Halton Community Legal Services – Indigenous Homelessness Outreach Project
ODAWA Native Friendship Centre -Board of Directors Training and By-Laws Development and Child Care facility project management
Kenjgewin Teg  - E-Mail marketing development and campaign support
Development of Rideau Rockcliffe Community Hub in Ottawa
Chapman's Ice Cream – Three Day Staff Cultural Competency Training.
Weengushk Film Institute - Funding proposals and capacity building
M'Chigeeng First Nation Education Committee - Community consultations and three year strategic planning sessions
Coalition of Hamilton Indigenous Leadership - Website and Office 365 migration Project
Niwasa Kendawsin Teg - Website and Office 365 migration project
Nogojiwanong Friendship Centre - Office 365 Training and SharePoint site design project.
Brock University Health Sciences Web Management Project
Organizational Capacity Projects 
Winning $3.4 million dollars for the Odawa Friendship Centre for childcare expansion
Winning $1.1 million dollars for the Fort Erie Friendship Centre for family program expansion
Securing a surplus high school for community use
Developing an action plan for the acquisition of housing for mother-led homeless families
City of Ottawa Grant for ODAWA Friendship Centre for Internal Capacity procuring a Community Outreach Bus.